UPDATE: The new lines described below opened on December 19th 2015. Please see http://support.exploremetro.com/knowledgebase/articles/800889 for a timeline of when these lines will be available in our apps.
Across Shanghai, the sound of drilling echoes around 25 new metro stations, the plastic wrap is coming off hundreds of new fare gates, and scores of security personnel are being trained in how to blankly stare into the distance. Yes, at the end of 2015 we're expecting two new extensions, finally bringing Line 12 and Line 13 into the downtown area.
Although there's no official opening date yet, new lines often open on the final Sunday in December, so we predict December 27th 2015 will see 21km of new track open on Line 12, and 9.8km of new track open on Line 13.
First up, Line 12. Currently Line 12 connects Qufu Road with the North Bund, north-eastern suburbs and northern Pudong, passing Tiantong Road, the International Cruise Terminal, Dalian Road, Jufeng Road and terminating at Jinhai Road.
A new 16 stations are expected, with an impressive number of connections to existing lines opening in downtown, before the line heads towards Minhang. In particular, South Shaanxi Road becomes a 3-line interchange with lines 1, 10 and 12, as does Hanzhong Road with Lines 1, 12, and 13. West Nanjing Road will also have three lines (2, 12 and 13) but unfortunately it will be a "virtual" interchange, meaning you'll need to exit the paid area for some interchanges. The same fate befalls Longhua station, a virtual interchange between line 11 and line 12.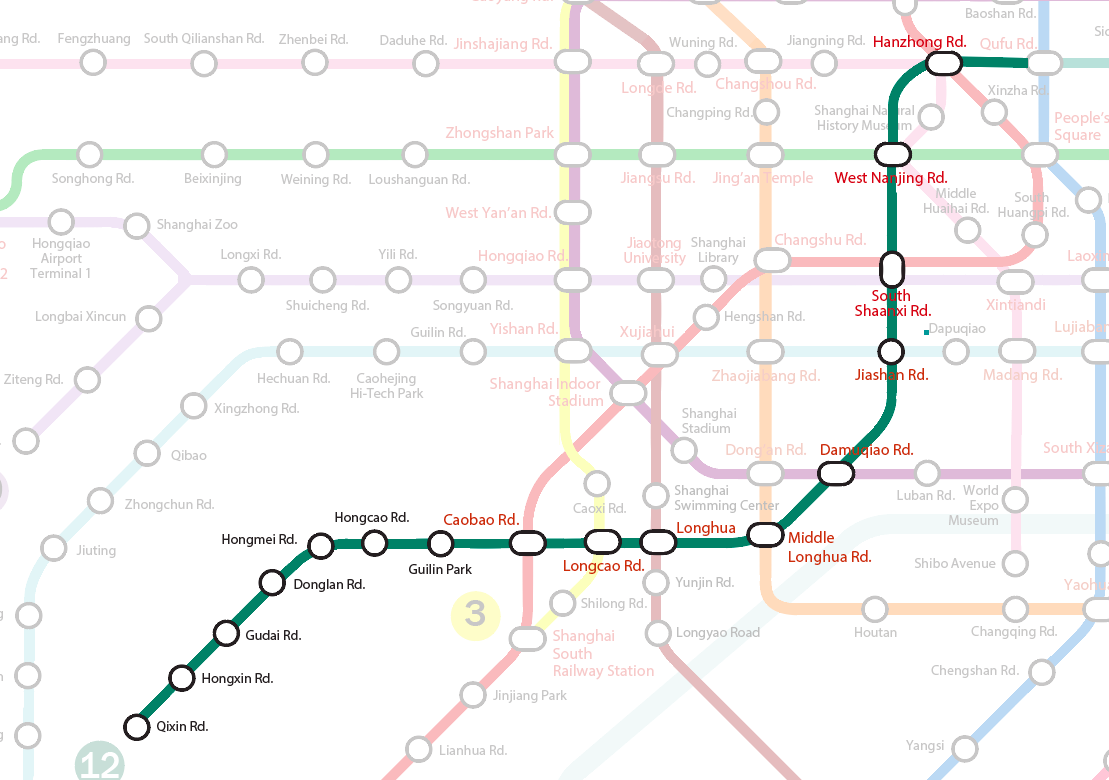 Here's the full list of new stations, with official Chinese and English names.
Qixin Road 七莘路
Hongxin Road 虹莘路
Gudai Road 顾戴路
Donglan Road 东兰路
Hongmei Road 虹梅路
Hongcao Road 虹漕路
Guilin Park 桂林公园
Caobao Road 漕宝路 (Line 1 interchange)
Longcao Road 龙漕路 (Line 3 interchange)
Longhua 龙华 (Line 11 "virtual" interchange)
Longhua Middle Road 龙华中路 (Line 7 interchange)
Damuqiao Road 大木桥路 (Line 4 interchange)
Jiashan Road 嘉善路 (Line 9 interchange)
South Shaanxi Road 陕西南路 (Lines 1 & 10 interchange)
West Nanjing Road 南京西路 (Lines 2 & 13 "virtual" interchange)
Hanzhong Road 汉中路 (Lines 1 & 13 interchange)
connects to existing Line 12 track via Qufu Road to Jinhai Road
Secondly, Line 13 which currently connects Changshou Road in Jing'an to the western suburbs, running along Jinshajiang Road. The line will continue south and east, with a double interchange with Line 12 at Hanzhong Road and West Nanjing Road. There's then a new station at Middle Huaihai Rd., which lies roughly halfway between South Shaanxi Road and South Huangpi Road, before interchanges with Line 10 at Xintiandi and Line 9 at Madang Road. The line then heads into the old Expo area, with a newly renamed World Expo Museum station (formerly known as Lupu Bridge) and terminating at Shibo Avenue in Pudong. In future the line will continue further south, connecting with Line 7 at Changqing Road.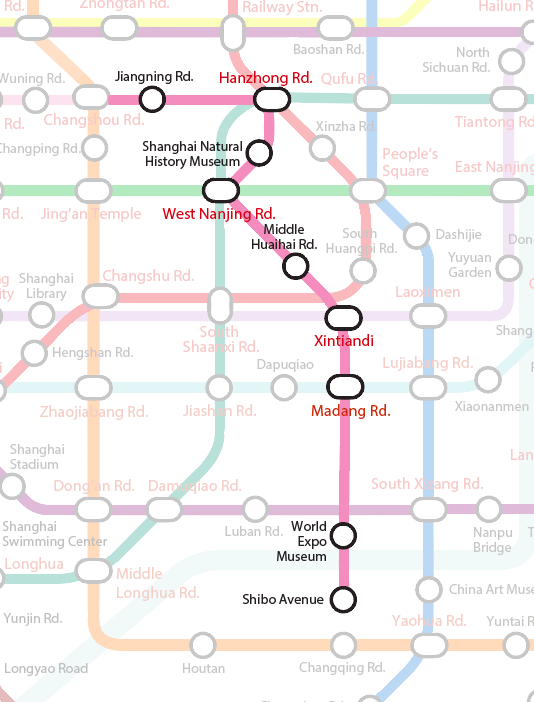 Here's the full list of new stations, with official Chinese and English names.
Jiangning Road 江宁路
Hanzhong Road 汉中路 (Lines 1 & 12 interchange)
Shanghai Natural History Museum 自然博物馆
West Nanjing Road 南京西路 (Lines 2 & 12 virtual interchange)
Middle Huaihai Road 淮海中路
Xintiandi 新天地 (Line 10 interchange)
Madang Road 马当路 (Line 9 interchange)
World Expo Museum 世博会博物馆
Shibo Avenue 世博大道